Advocating for Lawrence
At the end of each calendar year, The Chamber sets its legislative priorities at the state and federal level. With the help of the Public Policy Task Force, comprised of a group of Chamber members interested in government and communities affairs, and using guiding principles for advocacy and policy evaluation, The Chamber creates its priorities for the upcoming year.
Watch our 2021 Legislative Priorities Event in full below! The YouTube playlist also includes individual videos of each speaker, in case you want to skip around. Click on the three lines in the top righthand corner to see all the videos included in the playlist.
2021 State Legislative Priorities
Economic Development
The availability of competitive, straightforward, and flexible economic development and workforce training assistance programs is vital to the State of Kansas.
The Chamber supports:
Preserving and enhancing existing programs and credits, including High Performance Incentives Program (HPIP), Providing Employment Across Kansas (PEAK), Kansas Industrial Training (KIT), and Kansas Industrial Retraining (KIR).
Decoupling the KIT and KIR workforce training programs from the HPIP program so that funds can be freed up to assist with companies who can utilize the training and retraining program more efficiently.
Completing the Kansas Framework for Growth comprehensive and coordinated statewide economic development plan.
Equipping the Department of Commerce with abundant resources and staffing to compete globally for investment and job growth.
Recognizing the role that tourism plays in our state's economic development efforts by moving the Kansas Travel and Tourism division back into the Department of Commerce.
Efforts to reestablish a state venture capital fund or other mechanism to spur growth in bioscience research and development.
Restoring funding for the Arts to the level it was in 2011 when Kansas became the first state to de-fund its arts commission.
Preserving the property tax exemption for business and industrial machinery and equipment.
Promoting Agritourism as a tool for economic development, particularly in rural areas of the state.
Retaining Home Rule and Local Control of community development financing tools such as Tax Increment Financing (TIF), Transportation Development Districts (TDD), and tax abatements.
Education and Workforce Readiness
Recognizing that the availability of a trained and competent workforce is the number one economic issue across the state,
The Chamber supports:
Creating legislation to authorize the Douglas County Commission to call an election for the establishment of a special taxing district to support the Dwayne Peaslee Technical Training Center.
Updating and extending the University Engineering Initiative Act and continuing funding the Kan-Grow Engineering Fund.
Fully funding the Excel in Career and Technical Education bill that passed into law on July 1, 2012.
Restoring State university's General Fund appropriations to pre-pandemic level of $643.6 million in FY 2022.
Further collaboration among all relevant stakeholders (Pre-K, K-12, higher education, early childhood education providers, technical educators, community colleges and the business community) in the area of workforce training.
Compliance with the Kansas Supreme Court ruling on public school funding.
Efforts to mitigate school district and employer liabilities when offering students workplace-based, experiential learning opportunities.
Maximizing the use of matching federal dollars for Child Care Development Block Grants (CCDBG) by committing additional State General Fund dollars to early care and education. Without childcare, there will be no economic recovery.
Taxation
Kansas must have a balanced and stable tax structure that is fiscally responsible, provides the services and amenities important to business growth and retention, and fosters a competitive, pro-growth business environment.
The Chamber supports:
Efforts to make state tax policy and reporting requirements more business friendly, especially for small businesses.
Efforts to develop fair and consistent standards and processes for the collection of sales taxes on all goods purchased through the internet.
Intentions of the 2006 Kansas Legislature, which overwhelmingly approved legislation exempting business machinery and equipment from property tax.
Legislation to authorize the use, sale, or refund of unused earned business tax credits.
The Chamber opposes:
Any change in tax law that would apply a sales tax on professional services, thereby negatively affecting our competitiveness with neighboring states.
Any legislative efforts to increase the state sales tax rate.
Employer increases to unemployment withholdings. The State should look for alternative revenue streams to keep this fund balanced.
COVID-19 Recovery
COVID-19 has tested our state in many ways. While local governments, businesses, and agencies have made heroic efforts to protect and care for our communities, this crisis highlights gaps we need to close in our emergency recovery efforts and long-term rebuilding efforts.
The Chamber supports:
Swift action by the legislature to extend the Governor's emergency powers to ensure that state and federal funding and supplies are provided to local units of government without interruption.
Provider Relief Funds as part of the Coronavirus Aid, Relief, and Economic Security Act (CARES) to reimburse hospitals and other community health providers for costs associated with educating, testing, and caring for their communities.
Using CARES Act funds and additional state efforts to expand broadband coverage. Broadband technology is one of our greatest economic development tools. Municipalities need resources and partnership with the State to expand broadband access to homes and businesses.
Health Care
The Chamber believes that access to health care is one of the keys to a productive and efficient workforce and is a top consideration in locating and operating a business.
The Chamber supports:
Expansion of Medicaid to close the coverage gap for working Kansans.
Measures to prepare the state's Medicaid system to maximize federal funding opportunities.
Increases in Medicaid rates to ensure adequate funding for health care providers serving the economically disadvantaged.
Strategies and solutions that would help control health care costs, improve outcomes, expand access, support wellness initiatives, and create a culture of health in the workplace.
Legislative action that improves the quality, organization, and efficiency of the KanCare system.

Efforts to return funding of Community Mental Health Centers to at least 2007 levels and restore the process of mental health reform.

Increasing the state's inpatient capacity to 300 at either the Osawatomie State Hospital campus or through regional psychiatric hospital sites.
Ongoing funding and implementation of the Medicaid housing programs approved by the 2018 Legislature.
Transportation and Infrastructure
The Chamber strongly encourages the Legislature to plan for future infrastructure needs, including transportation, water, sewer, technology, and others.
The Chamber supports:
Creating the Eisenhower Legacy transportation Program (IKE), which includes the west leg expansion of the South Lawrence Trafficway (SLT) from two to four lanes and considers economic development and broadband expansion as primary factors. Funding for the SLT expansion should be identified in the 2022 budget.
Efforts to accelerate broadband penetration and promote investment in broadband infrastructure.
Preserving of long-term transportation programs and funding at the federal, state, and local levels. It is essential that future state transportation programs retain, at a minimum, the level of funding in the 2010 legislation.
Protecting existing transportation funding sources (sales tax, fuel tax, bonding, vehicle registration fees, etc.).
Efforts to discontinue the diversion of funds from the Kansas Highway Fund.
Legal Reform
The Chamber believes that a well-functioning legal system is essential to sustainable economic development.
The Chamber supports:
Criminal justice reforms aimed at reducing prison populations, intentionally addressing racial disparity, and eliminating barriers to reentering the workforce.
Efforts to decriminalize poverty by addressing fines, cash bond requirements, driver's license reinstatement fees, etc.
Adequate funding for the courts.
Restoration of the state's cap on noneconomic damages in personal injury lawsuits.
Energy
As technology and innovation bring changes to the energy sector, businesses have new opportunities to lower their energy costs and reduce their carbon footprint. Businesses and all consumers should be free to make smart energy choices, such as installing solar panels or purchasing electric cars, without paying exorbitant fees that hinder innovation.
The Chamber supports:
Growth of the renewable energy industry in Lawrence and in Kansas, including an equitable balance of customer rates and increased opportunities for distributed solar generation without unreasonable rates or fees.
Fair and equitable policies governing the allocation of electric energy rates that ensure continued reliability as well as balancing the interests of consumers, including Kansas businesses.
Legislation and programs that encourage our public utilities, citizens, businesses, and local governments to invest in energy efficiency improvements to reduce energy cost burdens.
Development and implementation of a comprehensive, long-term state energy plan that responsibly addresses current issues with future needs and certainty.
Partner Priorities
Click on each partner logo to see their current legislative priorities.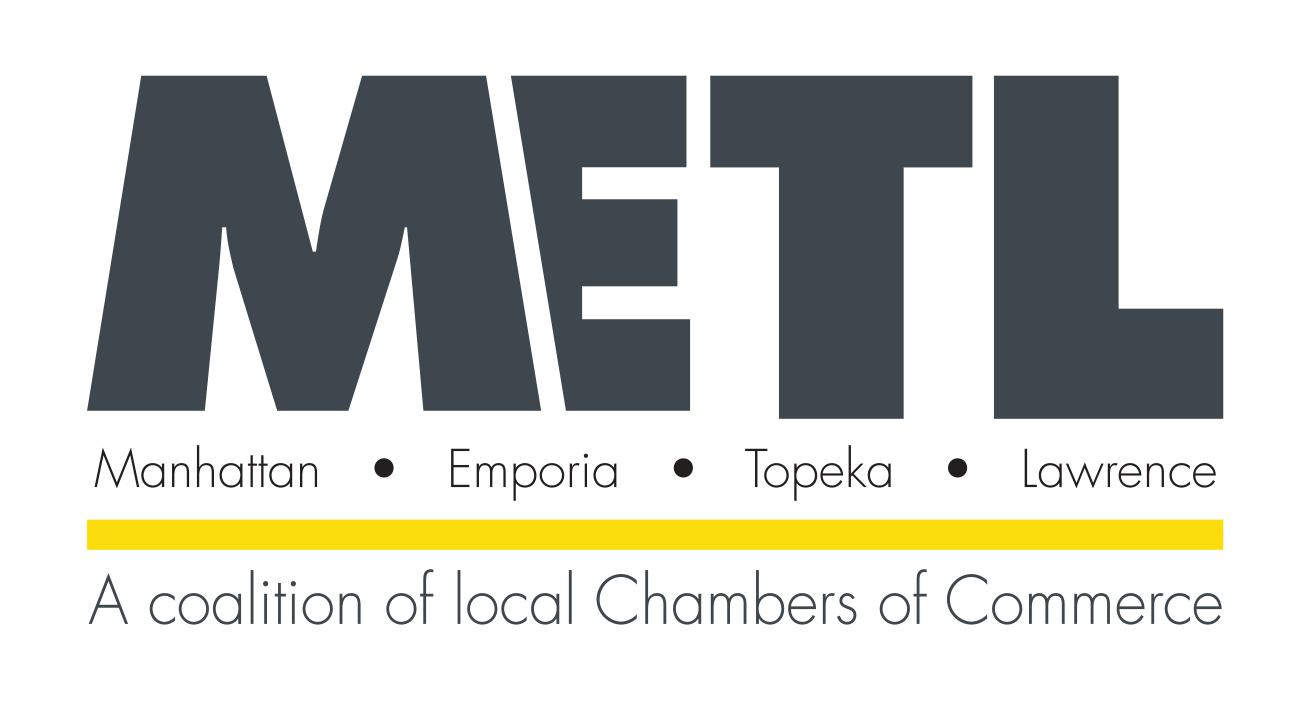 METL is a regional coalition of the Manhattan, Emporia, Topeka, and Lawrence Chambers of Commerce, which seeks to leverage the combined strength of nearly 3,000 member businesses and organizations, represented by 30 elected representatives and senators in our region. Our motto is Stronger Together. METL pledges to work side-by-side with state officials and elected representatives to maintain fiscal responsibility while helping lead economic recovery efforts in our communities and throughout the state.